BSc (Hons) in Computing and Information Systems



The information shown below is for students admitted to Year 1 before 2016 or Year 4 before 2018 only.


General Information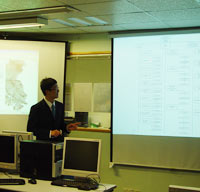 This Computing and Information Systems (CIS) degree programme aims to equip students as all-round information systems professionals. The programme, accredited by Hong Kong Institution of Engineers, meets not only the general educational needs but also the specific demands of the ICT industry in Hong Kong. It is multidisciplinary, covering the foundation courses of a Computer Science major as well as the Information Systems (IS) discipline, and at the same time some business studies from organizational perspectives. The Programme is also integrative. It brings in two ingredients (IT/IS and business) provided by the three different disciplines (Computer Science, Information Systems, and Business).

At the end of the programme, students will be equipped with:
IT/IS knowledge and skills for an IT/IS specialist;
Business perspective in IT;
Specialized knowledge and/or skills in selected areas for future career or further studies;
Interpersonal, communication, team skills and self awareness; and
Organizational problem solving skills.

Students after graduation will be able to:
apply specialized knowledge and skills to solve problems;
liaise with end-users, decision-makers at various levels, and their technical peers in building computer based information systems; and
establish a sound foundation for further advanced study.

The following are the different types of courses offered by CIS programme:
Core Courses - The core courses are the required CIS courses containing the main thrust of information systems studies and key topics in computer science. These courses are characterized by

studying programming languages to be used as vehicles for constructing and experimenting with algorithms and other problem-solving models;
studying the concepts of information structure including data/file structures, database, and related software;
gaining the conceptual understanding of internal organization and functioning of computers and computer systems;
developing the self-learning capabilities of advanced software tools;
mastering development methodologies and
gaining the working knowledge of information systems management.

Major Elective Courses - Major electives are courses selected and offered to reflect the contemporary topics in the field for the student's benefit. It also takes into account the special expertise of individual members of staff currently available. While stream specialization is not a graduation requirement for CIS Programme, students are encouraged to consider selecting major electives using their major electives units as well as the free electives units in the following streams according to their interest:

Enterprise Systems and Business Intelligence
Digital Media and Mobile Technology
Web Technology and Data Engineering
Intelligent Informatics
Health Information Technology
Computer Science Theory

Projects - The IS Implementation Project provides students not only with the experience of applying the knowledge they learned to develop real life projects, but also with the very important experience of team work in software development. It is a two-semester project in Year 3 of the programme. The Final Year Project is the integrating work in the programme as a whole, providing an opportunity for the student to demonstrate their ability of working independently. It is a two-semester individual project in Year 4 of the programme.
General Education Courses (Core Requirement) - Communication, meaning written and verbal media applicable to the Hong Kong environment as well as communication in the behavioral sense, is an important part of the general education. It is important not only to the success of an IS professional, but also to the well being of any individual. The English and Chinese languages as well as the public speaking courses in the programme are included to help students to improve the communication skills. Furthermore, the University emphasizes greatly in the whole-person education concept. As a result, students are required to complement the major studies with electives in the category of Information Management Technology, Values and the Meaning of Life, History and Civilization, Physical Education and Numeracy, and to participate in activities planned under the programme of University Life.
General Education Courses (Distribution Requirement) - Related courses include the disciplines of arts, business, communication / visual arts and social science. They are to broaden the students' knowledge and experience.
Free Elective Courses - Students are allowed to choose any other courses in which they are interested and qualified to further broaden their knowledge and experience. On the other hand, students may use these electives units to further deepen the understanding of their major and /or to pursue a minor.
Summer Internship - Students after finishing their Year 3 studies will be required to seek internship for six to eight weeks in the summer months. The internship must be information technology (IT) or information systems (IS) related. Possible positions may come from within the University, commercial firms, and charity organizations. Another example is the participation in organizing and supporting some IT/IS related summer activities such as Camp and Volunteer Programmes. Summer employment in the IT/IS fields will also be acceptable. Substitutions in the form of an exchange programme, a research project, or other arrangements may be allowed, subject to the approval of the Department.
Sandwich Mode Option - Students who are interested in gaining extended work experience in the information technology (IT) or information systems (IS) related fields prior to their graduation may apply to take a one-year leave of absence after completion of Year 3 of study for the reason of gaining work experience. As a general guideline, students whose cumulative GPA after completing Year 3 Semester 1 (with year courses excluded) is 2.5 or above are eligible and no more than 30 percent of the group of students in the Department completing Year 3 each year will be approved for such an option. Students shall return to full-time study to complete the final year of their programme after the one-year leave of absence. For IS students, those taking this option will be considered to have fulfilled the Summer Internship requirement.

For further information, please e-mail to