NEWS & ACHIEVEMENTS
Professor Cheung Yiu-ming Won Gold Medal in International Exhibition of Inventions of Geneva

Professor Cheung Yiu-ming of the Department of Computer Science won the Gold Medal with Distinction in the Computer Science Category and the Swiss Automobile Club Prize at the 45th International Exhibition of Inventions of Geneva which held in Switzerland from 29 March to 2 April 2017. The exhibition attracted over 700 exhibitors from 40 countries with 1,000 new inventions and products.

The invention presented by Prof. Cheung was "Fatigue Driving Detection and Alarm System". It uses detection and tracking technology to analyse a driver's facial expression and head pose captured by the real-time video on a smartphone. An alarm is automatically set off to alert the driver when symptoms of drowsiness manifest themselves.

Extending his heartiest congratulations to the winning teams of HKBU, President and Vice-Chancellor Professor Roland Chin said the award-winning inventions are all in high-impact areas tackling global real-world problems such as fatigue-related road accidents for which many researchers across the world have been working hard to come up with solutions.

International Exhibition of Inventions of Geneva is the world's most prestigious innovation exhibition, which is arranged under the patronage of the Swiss Federal Government, the Republic and Canton of Geneva, the City of Geneva and World Intellectual Property Organization (WIPO) with an aim to showcase innovations and inventions from around the globe.

Source: HKBU eNews.
Retrieved from https://hkbuenews.hkbu.edu.hk/?t=enews_details/1798.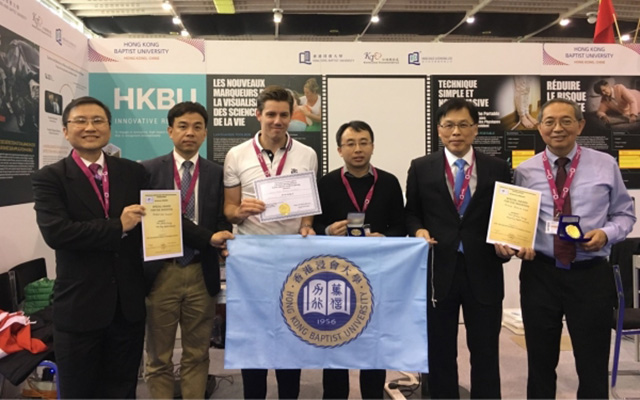 The HKBU winning teams at the 45th International Exhibition of Inventions of Geneva: (From left) Dr Alfred Tan, Head of Knowledge Transfer Office, Professor Cheung Yiu-ming, Mr Joan Goetz, PhD student, Dr Gary Wong, Professor Rick Wong, Vice-President (Research and Development), and Professor Jeffrey Cheung