iGPS: Privacy-Preserving Geo-Proximity Services in Location-based Social Networks (Jianliang Xu et al.)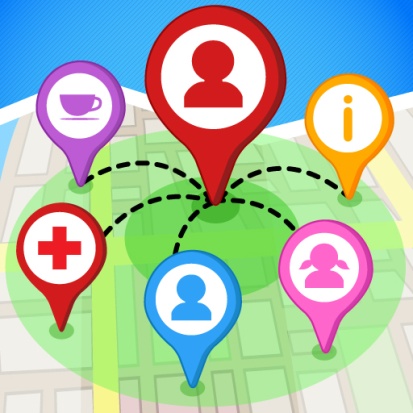 A geo-proximity service in location-based social networks alerts a mobile user when any of his/her friends is in the geographical vicinity, so as to enrich social activities such as collaborative working and information sharing. To realize such services, existing systems collect location information from mobile users for proximity computation, which raises serious privacy concerns. This project aims to develop more sophisticated location update and query techniques that support these geo-proximity services while preserving the location privacy of mobile users.


Objectives:
To identify the privacy requirements for mobile geo-proximity services such as distance-based proximity queries and nearest-friend queries
To propose and develop location access and update techniques for proximity query and monitoring services to protect mutual privacy of mobile users
To design and develop secure location access and query evaluation algorithms for nearest-friend queries with mutual privacy preservation requirements
To develop a prototype system to demonstrate the security, feasibility and effectiveness of the proposed privacy-preserving solutions
Findings So Far:
Publications:
H. P. Li, H. Hu, and J. Xu. "Nearby Friend Alert: Location Anonymity in Mobile Geo-Social Networks." IEEE Pervasive Computing (PC), in press, 2013. [DOI Bookmark, Press Coverage]
X. Lin, H. Hu, H. Li, J. Xu, and B. Choi. "Private Proximity Detection and Monitoring with Vicinity Regions." ACM SIGMOD Workshop MobiDE, June 2013.
Patent Application:
"A System and Method for Providing Proximity Information" (with H. Hu). US Non-Provisional Patent Application No. 13/905,456, Filed in May 2013.
Grant Support:

This project is supported by the Research Grants Council (RGC), Hong Kong SAR, China (Project HKBU211512) and the Hong Kong Scholar Program (Grant XJ2011008).
For further information on this research topic, please contact Prof. Jianliang Xu.