Bayesian model-based Complex Network Analysis and Agent-based Health Process Simulation
(William K. Cheung, Jiming Liu, et al.)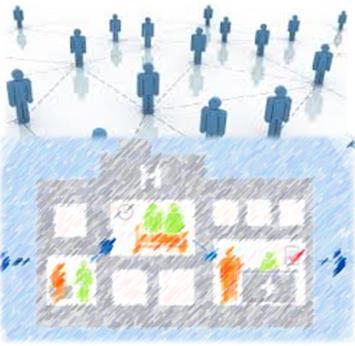 Healthcare process enhancement aims to improve patient experience in the healthcare system, e.g., to shorten patient wait time, which is especially desirable for cases where timely treatment can increase the chance of recovery. The recent fast development of electronic Health records and smart devices has enabled the patient experience to be digitally recorded to support healthcare analytics. In this project, we focus on how the physical interactions among patients and caregivers, as well as the organization interactions among different units in a hospital can be modeled as complex networks and analyzed using the Bayesian model-based approach. In addition, the agent-based simulation approach will also be explored as the methodology for evaluating different wait time shortening strategies.


Objectives:
To develop robust temporal network motif detection techniques under the Bayesian framework to characterize different human interaction and movement patterns
To develop machine learning techniques for inferring stochastic process models representing patient careflow and human flow analysis.
To adopt agent-based simulation approach for evaluating different resource allocation strategies for process improvement
Recent Findings:
We have proposed a few model-based learning algorithms for detecting temporal network motifs as well as behavioral motifs.
We have demonstrated the effectiveness of the proposed algorithms by applying them to different types of network data sets, e.g., online social network, and mobile phone usage, as well as to human movement data sets.
We have developed a preliminary prototype for evaluating different adaptive resource allocation strategies for patient journey optimization


Figure 1: Temporal network motifs detected in a mobile phone usage dataset.


Figure 2: Movement motifs detected in a smart house dataset.


Figure 3: Illustrating of a simulation related to cancer patient journey optimization.
Publications:
K. Liu, W.K. Cheung, and J. Liu. "Multiple stochastic network motifs in network data." Journal of Knowledge and Information System (KAIS) (to appear)
Q. Bao, W.K. Cheung and Y. Zhang, "Incorporating structural diversity of neighbors in a diffusion model for social networks." In Proceedings of 2013 IEEE/WIC/ACM International Conference on Web Intelligence (WI 2013), Atlanta, GA, USA, Nov. 17-20, 2013
K. Liu, W.K. Cheung, and J. Liu. "Detecting stochastic temporal network motifs for human communication analysis." In Proceedings of 2013 IEEE/ACM International Conference on Advances in Social Networks Analysis and Mining (ASONAM 2013), Niagara Fall, Canada, August 25-28, 2013
K. Liu, W.K. Cheung and Jiming Liu. Extracting Behavioral Motifs for Characterizing Human Daily Activities in Smart Environments. In Proceedings of ACM SIGKDD Workshop on Health Informatics. pp. 697-710, Beijing, China, 2012.
C. Choi, W.K. Cheung, I.T. Cheung, J. Liu. "A multi-agent framework for cancer patient journey improvement," in Proceedings of the Third International Conference on Health Informatics, 2010
Grant Support:

This project is supported by the Research Grants Council (RGC), Hong Kong SAR, China (Project HKBU210410) and the Hong Kong Baptist University Strategic Development Grant (Project SDF10-0526-P08).
For further information on this research topic, please contact Dr. William K. Cheung.