BSc (Hons) in Computing Studies (Information Systems)
General Information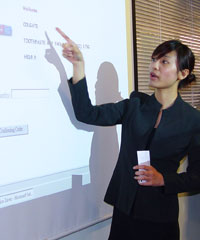 This Computing Studies degree programme has an all-round objective. The programme, accredited by Hong Kong Institution of Engineers, meets not only the general educational needs but also the specific demands of the computer industry in Hong Kong. It provides professional training and the programme is multidisciplinary and integrative. There are professional training in the programme contents that are directly usable in their career immediately after students' graduation. Students are also required to gain working experiences in the Summer Internship. It is multidisciplinary in that, in addition to the foundation courses of a Computer Science major as well as the Information Systems (IS) discipline, the programme covers some business studies from organizational perspectives for IS development and some mathematics training for analytical thinking in problem solving. The programme is integrative. It brings in two different ingredients (IT/IS and business) provided by the three different disciplines (Computer Science, Information Systems, and Business).

Upon completion of the programme, students will be equipped with KAIS:

Knowledge and skills essential to an information systems specialist including information technology, IT-enabled business development, and business fundamentals;
Analytical and critical thinking capabilities;
Interpersonal, communication, and team skills; and
Self-awareness and a whole-person concept.

The specific learning experiences designed for our students in this programme include:

A solid curriculum adopted from the one recommended by international information systems professional bodies;
Substantial systems development opportunities (group and individual) under professors' close supervision;
A specially designed summer internship programme for real life professional experience that may assist their future career development;
Guided research opportunities via an undergraduate elite programme; and
Optional one year of leave of absence to work in the IT/IS field for extended work experience at the end of Year II of study.



As the programme aims to produce graduates capable of becoming information systems specialists, and potential employers demand a practical, applied preparation of the graduates, balancing of theory and practice becomes a critical element in the programme design. Students must have sufficient practical preparation that is built on an appropriate theoretical foundation. Therefore the design of the curriculum is for the first two years to lay a solid foundation with some development and tools learning experiences for further advanced work in the third year and to complete the honours degree with a final year project. The following are the different types of courses offered by the CS (IS) programme:

Core Courses - The core courses are the required computing studies courses containing key topics in computer science in addition to the main thrust of information systems studies. These courses can be divided into four categories: foundation, computer system oriented, application system oriented, and professional development courses. These courses are characterized by:

Studying a particular language (in depth) to establish a sound foundation on programming techniques and to be used as a vehicle for constructing and experimenting with algorithms and other problem-solving models;
Studying the concepts of information structure including data structures, file structures, database, and associated software including DBMS;
Gaining the conceptual understanding of internal organization and functioning of computers and computer systems;
Obtaining the mastery of at least one development methodology immediately practicable;
Gaining the working knowledge of other methodologies preferably in concert with the view of information systems not only as technical systems which rely to an increasing extent on information technology; and
Developing and experiencing the self-learning capabilities of advanced IT/IS tools.



Elective Courses - Electives are courses selected and offered to reflect the contemporary topics in the field for the student benefit. It also takes into account the special expertise of individual members of staff currently available.

Projects - The group project provides students not only with the experience of applying the knowledge they learned to develop real life projects, but also with the very important experience of team work in software development. It is a two-semester project in Year II of the programme. The final year project is the integrating work in the programme as a whole, providing an opportunity for the student to demonstrate ability of working independently. It is a two-semester individual project in Year III of the programme.

Complementary Studies Courses (Core Requirements) – Communication, meaning written and verbal media applicable to the Hong Kong environment as well as communication in the behavioral sense, is an important part of the complementary studies. It is important not only to the success of an IS professional, but also to the well being of any individual. The English and Chinese language courses in the programme are included to help students to improve the communication skills. Furthermore, the University emphasizes greatly in the whole-person education concept. As a result, students are required to complement the major studies with an elective in the category of Values and the Meaning of Life, to take non-credit Physical Education courses, and to participate in activities planned under the programme of University Life.

Complementary Studies Courses (Distribution Requirements) – Related courses include the disciplines of mathematics and business courses. Business courses are oriented towards concepts and techniques for the understanding and the significance of cost, benefit, efficiency and effectiveness in organizational and economic terms, in the development of information systems. Mathematics courses include concepts and tools of mathematics essential to the understanding of computation, together with statistical techniques and practices that are useful and applicable to the planning and control of information systems development. Students may be advised to use an elective for additional mathematics in support of further studies in more technical courses in Computer Science. In addition, to further broaden their experience, students are allowed to choose three courses from a list of Complementary Studies courses or any other courses in which they are interested and qualified. On the other hand, students may use these three electives to further deepen their understanding of mathematics or business studies.

Summer Internship - Students after finishing their Year II studies will be required to seek internship for six to eight weeks in the summer months. The internship must be IT or IS related. Possible positions may come from within the University, commercial firms, government departments and non-profit making organizations. Another example is the participation in organizing and supporting some IT/IS related summer activities such as Camp and Volunteer Programmes. Summer employment in the IT/IS fields will also be acceptable. Substitutions in the form of an exchange programme, a research project, or other arrangements may be allowed, subject to the approval of the Department.

Sandwich Mode Option - Students who are interested in gaining extended work experience in the computing related fields prior to their graduation may apply to take a one-year leave of absence after completion of Year II of study for the reason of gaining work experience. The students shall return to full-time study to complete the final year of their programme after the one-year leave of absence.


Graduates (1) will be able to apply their specialized knowledge and skills to solve problems, particularly in relation to liaising with end-users, decision-makers at various levels, and their technical peers in building computer based information systems; and (2) will have established a sound foundation for further advanced study, if they so wish. Students may also choose to follow a route of technical specialists in Computer Science if they so desire. Possible IT/IS positions for graduates include:
Information systems development - application programmer, system analyst and business analyst, system coordinator in business, industry and public organization;
Information systems administration - systems administrator, database administrator, systems operator; and
Other IT related sales and management job opportunities.

For further information, please e-mail to .