NEWS
Distinguished Scholars and Engineers Explore the Frontiers in Big Data Graph Research at Croucher Advanced Study Institute

Sponsored by Croucher Foundation and organized by the Department of Computer Science, the Advanced Study Institute (ASI) on "Frontiers in Big Data Research" was successfully held on 16-18 December, 2015. The ASI brought six renowned scholars to HKBU and delivered a comprehensive programme with insightful views on Big Data Graph Research and attracted 41 established scholars and industry practitioners from Hong Kong, North America, Europe and Asia.

Six world-class scholars, including Prof. Tamer Ozsu of the University of Waterloo, Prof. Wenfei Fan of the University of Edinburgh, Dr. Johannes Gehrke of Microsoft Corporate, Prof. H V Jagadish of the University of Michigan, Ann Arbor, Prof. Michael Franklin of the University of California, Berkeley and Prof. Xuemin Lin of the University of New South Wales, delivered lectures on:
- Overview of Graph Data Management and Analysis;
- Querying Big Data from Theory to Practice;
- Large Graphs in the Enterprise: Recent Advances and Research Challenges;
- Big Data and Usability;
- Ethics of Big Data;
- Making Sense of Big Data with the Berkeley Data Analytics Stack;
- GraphX: Unifying Data-Parallel and Graph-Parallel Analytics; and
- Efficient Processing of Big Graphs.

The lectures sparked plentiful interaction between the speakers and the audience. Overwhelmingly positive comments are received.

"The conference is very well organized, and has attracted top researchers from database communities, who give detailed discussions about their work. The conference contains a good balance between system and theory experts, thus giving a comprehensive picture about the latest development of Big Data technologies."
Dr. Reynold Cheng, Associate Professor, Department of Computer Science, the University of Hong Kong

"My students and I learned a lot from the distinguished speakers, and enjoyed the interactions with our local researchers. The event covers a range of topics on big graph data management with a consistent theme."
Dr. Qiong Luo, Associate Professor, Department of Computer Science and Engineering, Hong Kong University of Science and Technology

More details at: http://www.comp.hkbu.edu.hk/asi15/.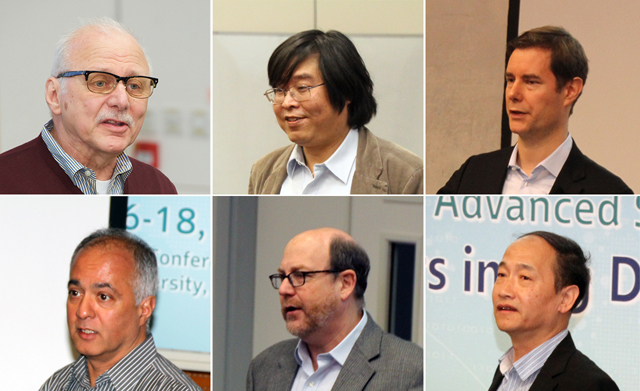 (Clockwise from top left) Prof. Tamer Ozsu, Prof. Wenfei Fan, Dr. Johannes Gehrke, Prof. H.V. Jagadish, Prof. Michael Franklin, Prof. Xuemin Lin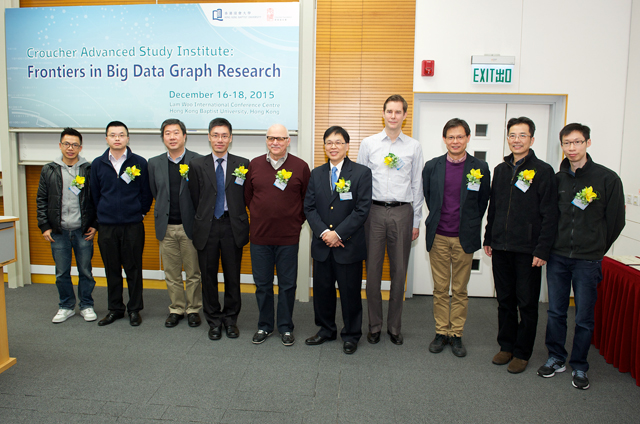 Prof. Rick Wong, Vice-President (Research and Development) (fifth from right), Prof. Jiming Liu, Acting Dean of Science (third from right), Prof. P C Yuen, Head, Department of Computer Science (third from left), accompanied by Dr. Byron Choi, Associate Professor, Department of Computer Science and Croucher ASI Director (fourth from left) and the ASI Organizing Committee, officiate at the opening ceremony