NEWS
HKBU COMP Organized International Workshop on Blockchain and Data Management

The First International Workshop on Blockchain and Data Management (BlockDM 2019) was held in Macau on 8 April 2019 by the Blockchain & FinTech Lab, Department of Computer Science and Syracuse University, USA. The workshop was in conjunction with the 35th IEEE International Conference on Data Engineering (ICDE 2019). Around 100 researchers and developers from academia and industry worldwide were attracted.

Two keynote speeches titled "State of Public and Private Blockchains: Myths and Reality" and "Blockchain in Action: Business Models and Application Examples other than Cryptocurrencies" were delivered by Dr. C. Mohan from IBM Almaden Research Center and Prof. Jian Pei from Simon Fraser University respectively.

Dr. Zhao Cao, Director of Huawei Wiener Lab and Dr. James Lei, Acting Director, Intelligent Software and Systems, ASTRI were invited to deliver the industry talks. In addition, two main sessions addressed topics related to "Security and Privacy" and "Data and Application". Eight papers were presented in the workshop.

More details at: https://blockchain.comp.hkbu.edu.hk/blockdm2019/.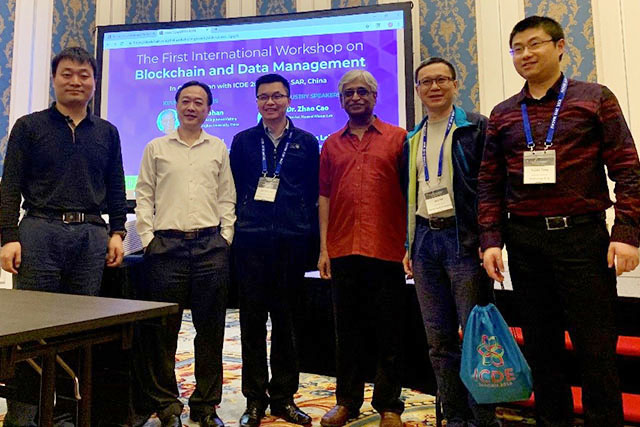 Group photo of invited speakers and organizers for BlockDM 2019.