NEWS & ACHIEVEMENTS
COMP Student Won Championship in Classified Post Hackathon

Elaine CHAN Pui Kam (Computing and Information Systems Year 4), teamed up with three other students from different universities and participated in the Classified Post Hackathon. Among around 30 teams from various institutions, the team was selected as Champion by a judging panel of technology experts.

In the 3-day competition held on 17-19 November 2018, the winning team was given a task to create an innovative digital solution in 24 hours to facelift the public image of insurance industry, attracting more professionals to the sector. The team was required to highlight the main features and selling points in a very limited time in the first round. Then, 10 teams were selected enter the final presentation which was given a 15-minute presentation with Question & Answer Session. Judges asked questions ranging from technical feasibility to market analysis and implementation.

The solution of the winning team was a company-based Role-Play Game (RPG) which simulated the various situations that people would face in their daily life, meanwhile injecting the knowledge related to insurance throughout the game. Prototype was created to let people have a better understanding of the relationship among daily life and insurance.

Classified Post Hackathon, organized by the South China Morning Post, aims to let participants to turn ideas into reality and will serve as a platform for them to develop their prototype, enhance their problem solving skills and to learn and meet with technology industry leaders. And at the same time for corporates to explore shining stars from the participants.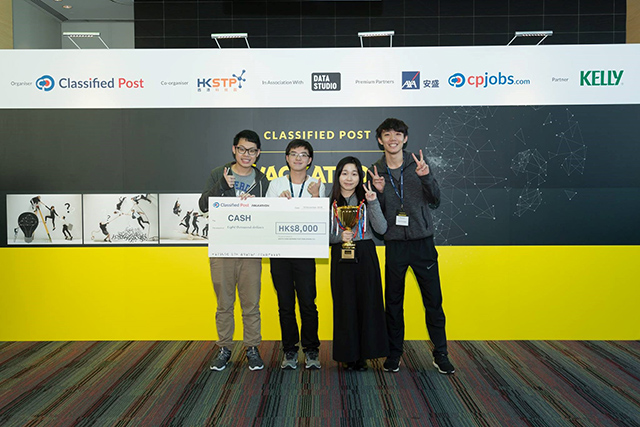 Elaine CHAN Pui Kam (Computing and Information Systems Year 4), teamed up with three other students from different universities and won Championship in Classified Post Hackathon.
Photo Credit: @Classified Post Facebook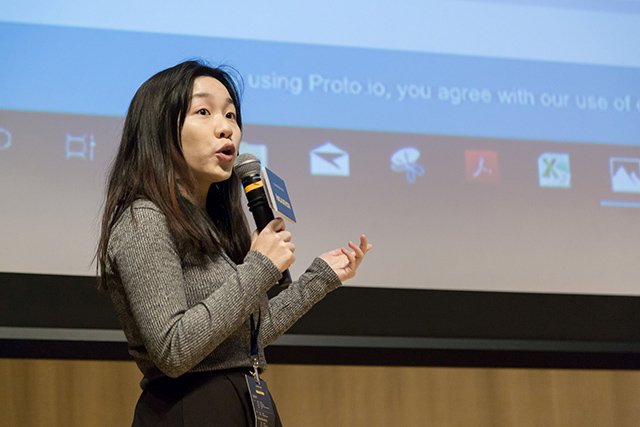 Elaine CHAN Pui Kam was presenting their team's idea during Classified Post Hackathon.
Photo Credit: @Classified Post Facebook