NEWS & ACHIEVEMENTS
Computer Science Alumni Awarded Full Scholarship to Pursue PhD at Oxford University

Moss Zhao, a Computer Science 2012 graduate, was awarded a scholarship from the China Scholarship Council Fund to support the full university fees of his PhD in Biomedical Engineering at the University of Oxford in the UK.

Focusing on the quantification of cerebral vascular haemodynamics using MRI (magnetic resonance imaging), Moss will join the Quantitative Biomedical Inference research group led by Professor Michael Chappell in the coming October.

"Studying at Computer Science Department has had an enormous impact on my life," Moss said. "It's not only where I harnessed my skills, but also where I met people, acquired knowledge, and championed the causes that underpinned my desire to resolve global health issues with the power of computing. I would like to express my most profound gratitude to the Department."

During his studies at HKBU, he was awarded the Overseas Summer Course Fellowship in 2011 by the Faculty of Science to support his participation in a summer course offered by Stanford University, USA.

As a member of the Science Elite Programme, Moss also participated in a six-month exchange programme at Baylor University and secured a placement at HSBC's Global Banking and Markets.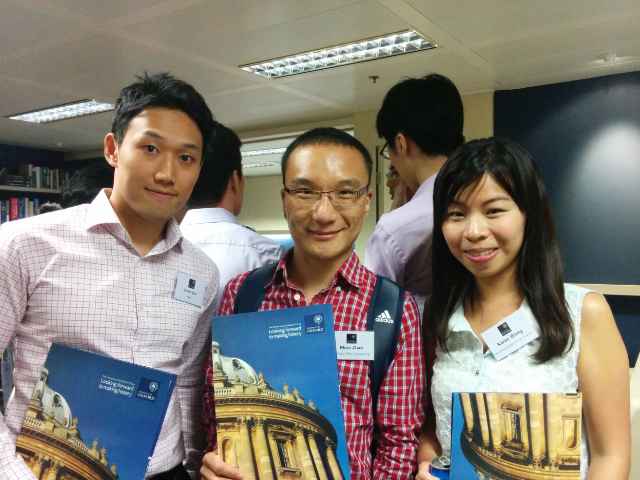 Moss Zhao (centre) has won a full scholarship to pursue a PhD at Oxford University