AI in the Eyes of Students - Intelligence@Society Contest 2004
Intelligence@Society Contest organized by Department of Computer Science, HKBU, aimed to further increase the awareness of the general public on the development and impact of Artificial Intelligence (AI) technologies to our daily lives. The event, held in Lam Woo International Conference Centre at Hong Kong Baptist University on November 10, 2004, was a big success in virtue of the enthusiastic and enjoyable participation of teams from eight secondary schools and eight universities (both local and Mainland), with the projects ranging from intelligent video recorders, intelligent mobile phones to intelligent vehicles.
This contest consisted of two sections: one for secondary schools and another for universities. The former emphasized the presentation of an innovative idea on applying AI in the society, whereas the latter featured the demonstration of related software prototypes. Such a contest was the first time in Hong Kong.
In this grand event, we were especially honored to have Professor Zadeh, The Father of Fuzzy Logic, as the Honorary Judge. Professor Zadeh also delivered a Distinguished Lecture on ˇ§ Fuzzy Logics Systems: Origin, Concepts, Trendsˇ¨, in which over two hundred participants enthusiastically attended to gain the valuable research experience and insightful perspectives.
During the event organization, we received a number of positive responses from the local secondary schools, universities and sponsors including Association for Computing Machinery, Hong Kong Chapter, Hong Kong Institution of Engineers, Electronics Division, and IEEE (Hong Kong) Computational Intelligence Chapter.
Other judges for the contest were from Hong Kong Polytechnic University, E-Business Technology Institute, University of Hong Kong, City University of Hong Kong, and Hong Kong Baptist University, respectively. They selected the winners of this contest as follows:
University Group
Champion
AI Reporter
Department of Computer Engineering and Information Technology
City University of Hong Kong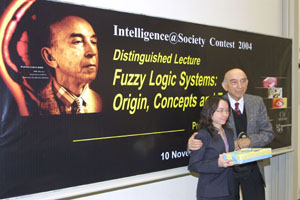 First Runner-up
Automatic Plant Leaves Recognition System Based on Image Processing Techniques
Institute of Intelligent Machines,
Chinese Academy of Science, China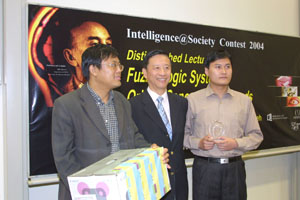 Second Runner-up
Skeletonization of Ribbon-like Shapes Based on Wavelet Transform
Department of Computer Science
Hong Kong Baptist University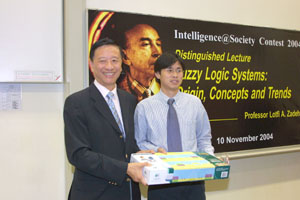 Secondary Group
Champion
Road.Eye
St. Paul's Convent School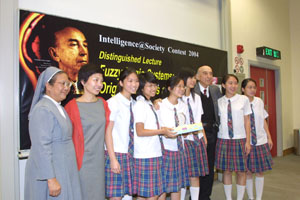 First Runner-up
Alert System for Drowning Swimmers
Lok Sin Tong Young Ko Hsiao Lin Secondary School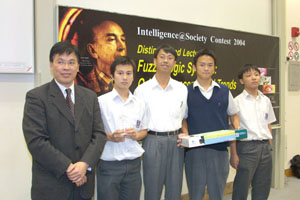 Second Runner-up
A.I. Venetian Blind
TWGHs Lui Yun Choy Memorial College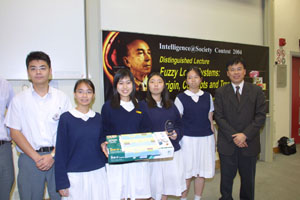 Best Presentation Award
Smart Digital Video Recorder
Yan Chai Hospital Lan Chi Pat Memorial Secondary School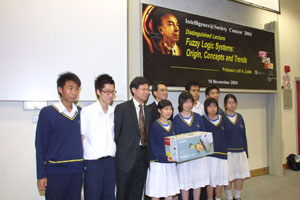 Through this contest, we hope that the penetration of the AI technologies into our society will continue to flourish via the integration of the real creativity and intelligence of our next generation.