6 out of 16 students enrolled in MSc in IT Management received the scholarship in Semester 1 of Academic Year 2005-2006. They are:
Distinction Scholarship:
HUI Pui Sze (Part Time)
LEUNG Sui Wing (Part Time)
Merit Scholarship:
WONG Wing Kee (Full Time)
YIM Chi Yuen (Part Time)
TANG Kwok Cheong (Part Time)
LEE Tak Chung (Part Time)
The scholarship ceremony was held on 4 March 2006, in which Prof. Y.W. Leung, Acting Head of Computer Science Department, awarded the certificate and prize to each scholarship recipient.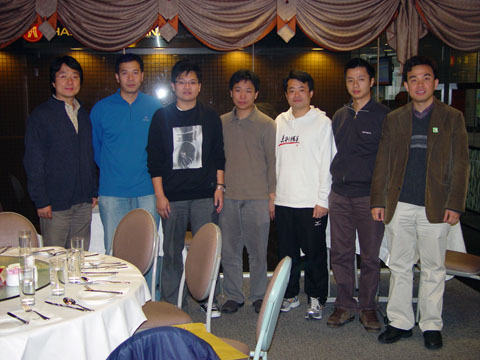 Prof. Y.W. Leung (Leftmost), Dr. Y.M. Cheung (rightmost) and our MSc IT Management Scholarship Recipients