Report of 5th PG Day
The department has initiated and launched the 5th Postgraduate Research Symposium (PG Day). The purpose is to enhance the research atmosphere and share the research experience and ideas among the postgraduate students.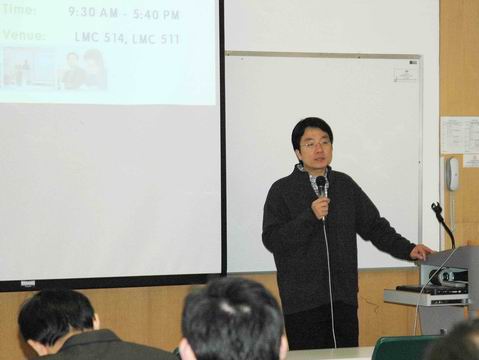 [Acting Head, Prof. YW Leung, giving an opening address]
| | |
| --- | --- |
| | |
| [Prof. A.K. Jain giving us an invited talk] | [Invited talk given by Prof. A.K. Jain] |
Following the big success of the three previous Postgraduate Day in 2005 and 2006, the 5th PG Day was successfully held on January 11, 2007. The main program contains three sessions of presentations from the PhD and Mphil students. It covers a variety of research topics, including Mobile Positioning, Sensor network, Data Mining, Web Intelligence, Pattern Recognition, and so forth. Both of Faculty members and students have actively participated in this event.
| | |
| --- | --- |
| | |
| [Our honoured guest and most the postgraduate students have been participated in the event] | [The proceeding of our 5th PGDay] |
In this symposium, Ms. Chow Wing Yan won the best paper award, Her paper title is " Lightweight Piggybacking for Packet Loss Recovery in Internet Telephony". Among all the presentations, Mr. Zhili Wu won the best presentation award.
[Ms. Chow Wing Yan, Michelle
(Winner of Best Paper Award)]
[Mr. Zhili Wu, Vincent
(Winner of Best Presentation Award)]