Date: 23-25, July 2003 (3 days, 2 nights camp)
Venue: Lam Woo International Conference Center, Hong Kong Baptist University
Participants: Students at Form 4 and above
Accommodation: Hong Kong Baptist University, Student Residence Hall
Fee: $450 per student
Downloads:
Typhoon and Rainstorm Arrangement Notice Last updated: 23 July 2003 12:00 noon

Application FormApplication Deadline 15 July 2003
Computer Science Summer Camp 2003 Poster
Computer Science Summer Camp 2003 Chinese Announcement
Photo Gallery
Important notice for participant

This summer camp aims to help secondary school students develop innovative thinking and problem-solving ability through a series of workshops. The summer camp provides exposure to current information technology through covering areas in robotic games, network security and multimedia computing. This summer camp provides refreshing approaches to learning novel concepts in computer science and cultivates the students' interest in the area of information technology. Games, communication workshops and sports activities will also be held.

Robot games workshop:
Building simple and fun robot with Java and IBM robocode
Network security workshop:
Discovering the essentials about security and encryption
Vector graphics workshop:
Using Scalable Vector Graphics for generating animation and creating games on internet
Communication workshop:
Improving communication skills and building self-confidence
Linux seminar
Urban orienteering competition
Mentoring and sharing events
Sports activities
Orientation games

Back to Top

Students should obtain endorsement from their parents/secondary school to participate in the summner camp. Students with financial difficulties can apply for fee waiving provided that supporting documents are attached in the application.
The application form can be downloaded at here.

For the latest information on the summer camp, please visit the summer camp website at http://www.comp.hkbu.edu.hk/~scamp
General Office:
Tel: 3411-7080
Fax: 3411-7892

Dr. C.H. Li
Tel: 3411-7865

Email: scamp@comp.hkbu.edu.hk


Back to Top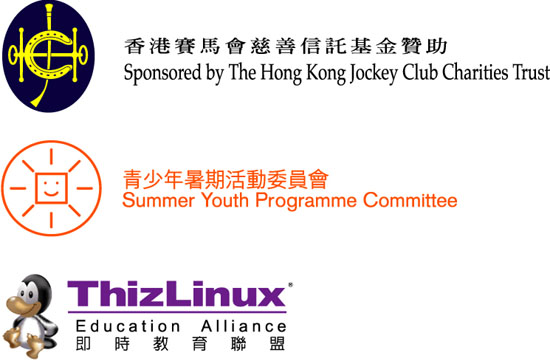 Back to Top
Copyright(c) 2003, Computer Science Department, Hong Kong Baptist University
Last Update: 20th Jun. 2003