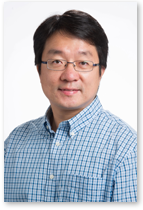 Message from Programme Director
Welcome to the Master of Science in Data Analytics and Artificial Intelligence (MScDAAI) Programme. This is a unique programme that offers holistic and innovative education to IT professionals and managers who possess cutting-edge technologies. It provides a transformational experience in integrating the latest technology and bringing impact to industries.

The programme aims to nurture graduates with technically competency and strategic mindset. We offer a wide range of elective courses in Data Analytics, Artificial Intelligence and Intelligent Information Systems.

We also offer various opportunities to develop students' global vision, creative problem-solving skills, and competitiveness via industry experience (such as overseas and local internships, cross-disciplinary design workshops, study tours, career development workshops and cutting-edge research projects). Our past students were able to benefit significantly from these opportunities. Various types of scholarships are available to reward students with outstanding performance in different fields.

Our recent graduates have been well-received by employers. They have landed jobs in the World leading companies and research institutions such as Tencent, IBM, Huawei, PwC, KPMG, China Mobile, Bank of China, ASTRI, etc.. Some of our alumni also continued further research as PhD in Hong Kong, USA, UK, Sweden, Australia, New Zealand, etc. A few alumni also successfully developed their own startups as entrepreneurs. A large alumni network encourages all graduates to achieve excellence.

Come join us, get inspired and inspire the World.
Prof. LEUNG, Yiu Wing
Programme Director