Young innovators share cutting-edge Internet technology
Five outstanding honours projects by students of Departments of Computer Science and Finance & Decision Sciences were selected for exhibition at the Intervarsity Internet Technologies Exposition and Conference 2003 (IiTEC 2003) held last week while two of them were also granted the merit awards. They were chosen from a pool of more than 400 projects submitted by tertiary students.

The two projects scooping the merit awards were submitted by students of Computer Science Department. They were the "Web-based Road Traffic Monitoring and Routing System" by So Kar-kei and Clement Chan with Dr. Li Chun-hung as the supervisor and the "Web Services Builder" by Lui Yi-leung under the supervision of Dr. William Cheung.

Also displayed at the IiTEC 2003 were three final-year student projects of the Finance and Decision Sciences Department. These included "Fundamental Factors Affecting Consumers' Intention to Repurchase Online" by Lo Wing-yan with Mr. Ludwig Chang as the supervisor; Gabriel Lee's "Factors Affecting the Consumer Preference in Using Different Payment System" supervised by Mr. Tony Wong; and "The Effectiveness and Efficiency of Information Technology and Information Systems in Supply Chain Management in Hong Kong" by Chan Pui-yuk under the supervision of Dr. Shi Xinping.

The IiTEC 2003, organised by the Internet Professionals Association in conjunction with seven tertiary institutions, aimed at encouraging communication and collaboration between Internet professionals, academics and students. HKBU was one of the co-organisers with Dr. Ernest Lam, Associate Dean of Faculty of Science, serving on the Grand Judging Panel.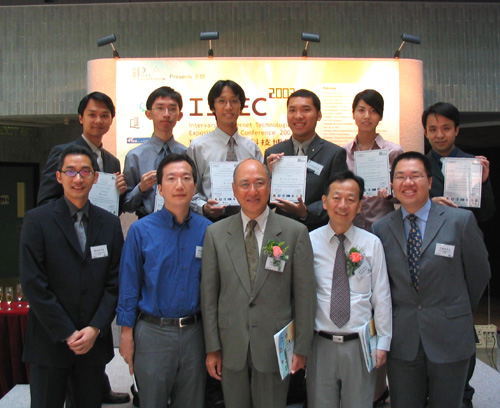 Prof. Fan Yiu-kwan, Vice-President (Development) (centre) and faculty members
share the joy of remarkable students

---