Radio Interview on Innovations by BU C.S. Students

The students of Computer Science Department Chan Kong Wei and So Kar Kei were invited by Metro Finance Radio to share the innovations and cutting-edge technologies of their honours project entitled Web-based Road Traffic Monitoring and Routing System.

These students participated as a team in a competition in the Intervarsity Internet Technologies Exposition and Conference 2003. Over twenty teams from seven local universities participated in this competition, and our team was selected to be one of the three outstanding teams for radio interview.

The radio interview was broadcast in the programme "Go For IT" at Metro Finance Radio Station from 9pm to 10pm, on 23 June, 2003.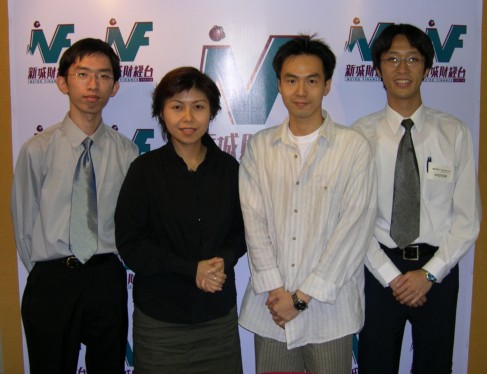 From left to right, So Kar Kei (Computer Science student), Janice Lui (host), Chung Wai Man (host) and Chan Kong Wei (Computer Science student).