Video Introduction of Hong Kong
Hong Kong Introduction (MPEG 1 format)

Situated at the southeastern tip of China, Hong Kong is ideally positioned at the centre of rapidly developing East Asia. With a total area of 1 103 square kilometres, it covers Hong Kong Island, the Kowloon peninsula just opposite, and the New Territories the more rural section of Hong Kong, which also includes 262 outlying islands.
Hong Kong's population was about 6.88 million in mid-2004. The population density was 6 380 people per square kilometre. Hong Kong had a large foreign population of about 524 200. The top three nationalities came from About Hong Kong the Philippines (129 760), Indonesia (105 710) and the USA (29 900).
Hong Kong has a bustling economy highly dependent on international trade. It is one of the world's freest economies, as well as the world's 11th largest trading entity and 13th largest banking center, the world's 6th largest foreign exchange market, Asia's 2nd biggest stock market, and 15th in the world's top GDP - per capita category. Hong Kong is one of the world's top exporters of garments, watches and clocks, toys, games, electronic products and certain light industrial products. Hong Kong advocates and practises free trade - a free and liberal investment regime, the absence of trade barriers, no discrimination against overseas investors, freedom of capital movement, well established rule of law, transparent regulations, and low and predictable taxation.
Chinese and English are the official languages. English is widely used in the Government, the legal system and by the professional and business sectors. There is no shortage of well-educated competent bilingual or even trilingual professionals who speak English, Cantonese and Putonghua.
Banks
Major banks are open from 9am to 4:30pm Monday to Friday, and 9am to 12:30pm on Saturday. They close on Sundays and public holidays. Automated teller machines (ATMs) can be found almost everywhere and some HSBC "Electronic Money" machines provide 24-hour cash withdrawal (HK$) facilities for Visa and MasterCard holders. American Express cardholders have access to Jetco ATMs and can withdraw local currency and travellers' cheques at the Express Cash ATMs in town.
Currencies
Legal tender is the Hong Kong dollar (HK$). There are 100 cents in a dollar. The value of the Hong Kong dollar has been pegged at HK$7.8 to the US$1 dollar, and consequent rates of exchange to other currencies. Commissions are payable in hotels and major retail outlets which provide exchange facilities for their customers. There are no restrictions on currencies being brought in or taken out of Hong Kong.
Health, Hygiene and Safety
Health and Hygiene
Upon arrival, you will have your temperature taken when you pass through immigration. These measures enable visitors to have an enjoyable and healthy stay in Hong Kong.
Hong Kong has world-class hospitals providing outstanding care. Visitors are required to pay $570 if they use the Accident and Emergency services in Hong Kong public hospitals. The Hong Kong Government assures visitors they will receive the emergency care they require. People who cannot pay immediately will be billed later.
Vaccination certificates are usually not required. Check with your local carriers because requirements can change.
In Hong Kong , littering and spitting will be fined with HK$1,500.
Security
Hong Kong is a remarkably safe city day or night. Police officers patrol frequently and they are very helpful. To ensure that your stay is a pleasant one and hassle free, please pay attention to the following points:
Keep your money, valuables and travel documents in a safe place, like the hotel room safe;
Attend to your belongings especially when you are in a crowded place;
Beware of people making dubious offers and those who may try to distract you and take away your belongings; and
Be wary of people offering gambling or investment opportunities.
Visitors to Hong Kong must hold a valid passport. Passports should be valid for at least six months after your planned departure date from Hong Kong. Nationals of most countries are not required to obtain visas for periods varying from seven days to 180 days, depending on nationality. Check with any Chinese embassy or consulate for the latest status. For more information about Visa requirements please refer to Visit Visa/ Entry Permit Requirements by clicking here.
Now, frequent business travel to Hong Kong is easier than ever with the Hong Kong Special Administrative Region (HKSAR) Travel Pass. For more details on the Travel Pass, please visit the Immigration Department's website. If you would like to obtain an application form, click here.
Visas for mainland China can be obtained in Hong Kong. They require one photo and usually take three working days to process. Visas can be obtained through the Visa Office of People's Republic of China, Office of the Commissioner of the Ministry of Foreign Affairs of the People's Republic of China in Hong Kong, China Travel Service (HK) Ltd, or China International Travel Service HK Ltd.
All visitors entering Hong Kong must go through customs clearance. View a list of dutiable commodities.
Departing visitors should note that enhanced security measures are now in effect at Hong Kong International Airport. Visitors are reminded not to carry any sharp objects with a point or blade such as knives, cutters, scissors, razor blades, or household cutlery in carry-on luggage. Instead, visitors should place such items in check-in baggage. Some personal protection devices like the spray mace, while legal in some countries, are prohibited in Hong Kong. To avoid any unnecessary delays, please follow the guidelines from HKIA.
Please refer to the Customs & Excise Department web pages for more information about prohibited articles /goods.
IT Infrastructures in Hong Kong
Cyberport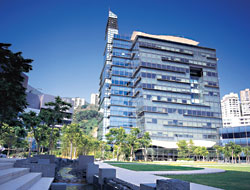 Cyberport — Hong Kong's IT flagship — It is creating an interactive environment that will be home to a strategic cluster of more than 100 information technology (IT) companies and more than 10 000 IT professionals. This clustering of local and overseas companies and professional talent is envisioned as a catalyst and hub for the growth of local and regional IT industries, with particular emphasis on IT applications, information services and multimedia content creation. Cyberport will also provide IT education for the broader community.
Cyberport represents a commitment on the part of the Government of the HKSAR to facilitate Hong Kong's development as a leading digital city in the region. The project is being developed on a 24-hectare site at Telegraph Bay in the southern district of Hong Kong Island. Cyberport is being completed in phases extending through 2004, and when complete will feature 100 000 square metres of 'intelligent' office space.
Science Park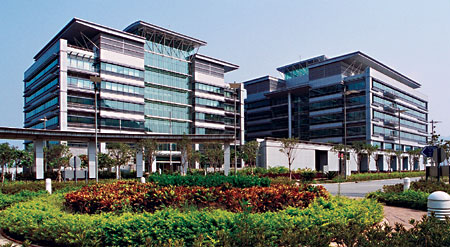 The Science Park aims to establish and nurture a world-class technology community dedicated to applied research and development. It is being developed along a clustering concept, with four clusters of electronics, IT and telecommunications, biotechnology and precision engineering. The first phase of the Science Park opened in June 2002. Phase II of the Science Park is to be completed by the end of 2007.
IT Educations and Researches
To ensure young people can grow up with the vision and capability to face the challenges of the Information Age, the Government in 1998 issued a five-year strategy on information technology (IT) in education with four key components: to enhance students access to IT and the Internet; to provide training and support for all teachers; to use IT to support teaching in the school curriculum; and, to foster a community-wide culture which helps promote IT in education. Five years down the road, the strategy has brought about tremendous changes to the education scene in Hong Kong. s
Telephones
As one of the world's highest per capital users of cellular phones and radio pagers, Hong Kong thrives on efficient telecommunications. Local calls from public coin phones cost HK$1 for five minutes.
Post
Postage is inexpensive and the service is reliable.
Mobile Services
Using your mobile phone in Hong Kong is convenient as most of the telephone systems used around the globe like GSM 900, PCS 1800 in Hong Kong.
Mobile operators in Hong Kong also have roaming agreements with most overseas operators enabling visitors to use their own mobile phone when they come to Hong Kong. Before leaving home check with your network provider to make sure they have a roaming service to the various destinations you will be visiting and be sure to check pricing.
If for some reason you decide not to bring your mobile phone with you, you can always rent a mobile phone when you arrive in Hong Kong at the international airport. By the way, to make an international call in Hong Kong you must dial 001.
Internet Access
Most hotels have Internet access. You can also access the Internet for free at many coffee shops, large shopping malls, major MTR stations and public libraries in town. For people bringing their laptops to Hong Kong, Wireless Broadband service is common at major shopping malls and coffee shops. If you use a modem, note that the BT system using in Hong Kong will gradually be replaced by the RJ system. If you are still using the BT plug, you can buy a BT-RJ adaptor in Hong Kong to solve the connection problem.
The standard electrical voltage in HK is 220 volts AC, 50HZ, so you will need an adaptor for your 100-volt appliances and electrical equipment. The majority of electrical outlets in Hong Kong take a three-pronged plug. You can buy an inexpensive adaptor for your equipment when you arrive in Hong Kong.
Hong Kong is geographically compact and boasts one of the world's most efficient, safe, affordable and frequent public transport systems. Whether by taxi, ferry, rail, bus or tram, you can get around easily and catch wonderful glimpses of the city along the way.
Hong Kong Internatinal Airport
As the world's fifth busiest international passenger airport and most active worldwide air cargo operation, Hong Kong International Airport (HKIA) sees an average of 750 aircraft take off and land every day. Over 80 airlines, including 18 all cargo carriers, operate at HKIA, linking Hong Kong with more than 140 locations round the world. An extensive air network and Hong Kong's strategic location position HKIA as Asia's 'Superhub' and the most accessible gateway of China. With regular flights to about 40 destinations in mainland China, HKIA becomes the airport of choice for international travellers to and from the Mainland while meeting the ever-growing travel and cargo needs of the rapidly-expanding Pearl River Delta (PRD) region. In light of globalization and regional integration, it is crucial for us to further integrate the extensive international connection of HKIA with the transport network of PRD airports.
Octopus Cards - The Easy Way to Travel
Most public transport requires exact change and that's why we recommend that you get an Octopus card. This electronic stored-value card is just like money and is accepted on most public transport including buses, minibuses, trains, ferries, the Peak Tram, and some taxis. It's even accepted at convenience stores and fast food restaurants. To pay a fare, simply place the Octopus card on the reader located next to the fare box and the fare gets deducted electronically. A new Octopus card includes a refundable HK$50 deposit. Any leftover money is also refunded when you return the card. Ask for it at the Airport Express Customer Service Counters on Level 5 of the Hong Kong International Airport, and the cards are also available at most public transport customer service centres.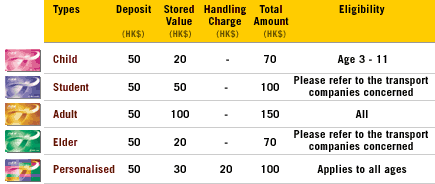 Remark
: Special thanks for
Discover Hong Kong
,
Hong Kong SAR Government
and
Wikipedia
to provide the above information. For further information about Hong Kong, you are welcomed to visit their websites.
MTR (Metro / Underground / Subway)
The underground MTR is fast, clean, efficient and inexpensive. Fares range from HK$4 to HK$26 and can be paid with single-journey tickets or travel passes like the Octopus card. The MTR is great for getting to Hong Kong's attractions as well as a host of shopping and dining outlets.
Taxi
The best choice for short distances, taxis are ubiquitous in major areas and fares are comparatively low. Many drivers speak some English, but it is wise to have your destination written in Chinese characters.
Bus
Bus routes, with double-decker and single-level buses, cover almost all of Hong Kong. Final destinations are prominently displayed in English and Chinese on the front of the bus. Fares are low, usually ranging from HK$1.20 to HK$45, and are based on distance travelled. Exact change is required. Octopus cards are accepted.
Minibus
Minibuses are small passenger buses that carry about 16 people. Fares for minibuses are a little higher than regular buses, but minibuses are sometimes faster. Please note that minibuses are best suited for people who can speak some Cantonese and who are familiar with Hong Kong.
Trains (KCR)
The train (namely KCR) provides commuter train service from urban areas through the satellite towns and rural areas to the boundary with Mainland China as well as long-distance intercity rail transport into Mainland China. It is suitable for mainland visitors.
Ferry
Ferries provide an essential mode of transport for the outlying islands. In the inner harbour and the new towns, ferries offer a supplementary mode of transport to the buses and the railways.
Peak Team
Victoria Peak offers the most amazing vistas of Hong Kong. Getting there can be equally spectacular. A quick and dramatic way to Hong Kong Island's highest point, this popular cable railway climbs 373 metres (1,224 feet) in only eight minutes. The fare is HK$20 one way or HK$30 return. Octopus cards are accepted.
| | |
| --- | --- |
| Directory Enquiries: | 1081 |
| Time: | 18501 |
| Weather: | 187 8066 |
| Collect Calls: | 10010 |
| Overseas IDD and Cardphone Enquiries: | 10013 |
| Emergency Service (Police, Fire, Ambulance): | 999 |
| RTHK's Service Hotline (Newsline): | 2272 0000 |
| Hong Kong Tourism Board Visitor Hotline: | 2508 1234 |
| General Police Enquiries: | 2527 7177 |
| Consumer Council: | 2929 2222 |
| Hong Kong International Airport, English (24 hours): | 2181 0000 |
| Hong Kong Immigration Department (24 hours): | 2824 6111 |
| Department of Health: | 2961 8989 |
| | |
*If you're dialling from outside Hong Kong please add the area code (852).
Victoria Peak
High above Hong Kong Island on the 'back of the Dragon', Victoria Peak is Hong Kong's premier visitor attraction, providing magnificent harbour and city views. Arriving late afternoon enables you to experience the dazzling panorama of Hong Kong Island, the harbour, Kowloon and the hills beyond. Later, you can thrill to the neon-dotted skyline by night. What's more, The Peak offers visitors a multitude of fantastic entertainment, dining and shopping options.
The best way to get to the top is via the Peak Tram, a funicular railway that carves a steep 373-metre swathe up the lush mountainside. The tram has been in operation since 1888, and once competed with sedan chairs as the most popular way up. Try to get seats at the front of the tram on the right-hand side for the journey skyward.
Thrilling indoor entertainment is housed in the Peak Tower and Peak Galleria. Then, rub shoulders with the famous at world-renowned Madame Tussauds wax portraits museum. With around 100 astoundingly life-like wax figures means getting up close and personal with Jackie Chan and Arnold Schwarzenegger has never been easier. There are several mouth-watering options on the Peak, including Cafe Deco and Movenpick Marche Restaurant.
For really stunning views, walk around The Peak and take in the spectacular Hong Kong skyline, the world-famous Victoria Harbour and Kowloon. Best views can be enjoyed from the Lions Pavilion, adjacent to the Peak Tram or the Lugard Road lookout - about a 15-minute walk from the Peak Station - offering striking 270-degree views of the surroundings. Afterwards, relax with some retail therapy or enjoy a spectacular dining experience with a fabulous view.
Hong Kong Disneyland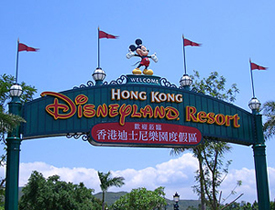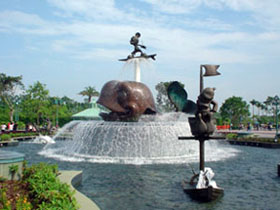 Here, you'll discover whimsical worlds of imagination where enchanting stories and timeless places literally come to life right before your eyes. Fantasy becomes reality in our magical themed lands and hotels: Main Street, U.S.A., Tomorrowland, Fantasyland, Adventureland, Hong Kong Disneyland Hotel, Disney's Hollywood Hotel.
In 1955, Walt Disney created a place for the young and young at heart to have fun together, which he called Disneyland. And now, Hong Kong Disneyland continues this tradition with classic Disney attractions, unique shops and restaurants, dazzling live entertainment in a delightful, magical setting.
Meet all of your favorite Disney friends in person: Mickey Mouse, Donald Duck, Mulan, and all their friends, as you discover medieval castles and intergalactic mountains, elephants that lumber and elephants that fly, snakes that talk and bears that sing.
Ocean Park
Ocean Park is one of Southeast Asia's largest oceanariums and theme parks. There are funfair rides and dolphin shows, scenic cable cars and sea lions, magnificent shopping, great dining and so much more. The Lowland Gardens are a must-see, featuring the park's most adored attractions - the giant pandas An An and Jia Jia. The animals live happily in a 2,000-square-metre habitat that closely resembles the natural living conditions of giant pandas in the wild.
The undersea world is explored at Marine Land. Here visitors journey under water at the Atoll Reef to discover more than 250 kinds and 2,000 fish, including an 80-year-old, 1.8-metre-long giant grouper can be seen. The Atoll Reef also boasts the largest number of Giant Napoleon fish to be found in any aquarium in the world.
The young and the young at heart can't wait to jump on Ocean Park's Headland Rides. The Dragon is Hong Kong's largest roller-coaster that flips riders at super high speeds through loops, twists and turns for the ride of a lifetime. The Flying Swing lifts the daring as high as seven metres in a gyrating wave-like motion. Adventure Land is another place for high-octane thrills. You can ride down the Raging River in a boat, navigating through swirling and narrow ravines. Then test your astronautical skills on the hair-raising Space Wheel. And don't miss out on Mine Train, Ocean Park's newest phenomenal ride with 678 metres of twisting, climbing and dipping exhilaration - definitely not for the faint of heart.
Aberdeen
Aberdeen is also the site of Ocean Park. Aberdeen Harbour is home to hundreds of people living on fishing junks. Their traditional lifestyle is dramatically juxtaposed against a modern high-rise community that spreads up the nearby hillsides. In the evenings, the thousands of twinkling lights reflected on the water are a magical sight.
To get a close-up look at the Aberdeen way of life, many visitors take a sampan ride. In the evenings, many others prefer to take in the view from one of two magnificent floating restaurants anchored here. Three storeys high and elaborately decorated with swirling red and gold dragons and other traditional Chinese motifs, the experience is not to be missed. Neither, of course, is the delicious fresh seafood and the excellent Cantonese fare on offer.
Jumbo Kingdom, one of Hong Kong's truly unique attractions. Since its inception in 1976 as the Jumbo Floating Restaurant, it has excelled in the preparation of seafood for discerning diners. The restaurant, designed like a classic Chinese palace, can accommodate up to 2,300 people. Situated in Aberdeen harbour, the Jumbo is one of the world's largest floating restaurants and a tourist icon.
Big Buddha
Few statues anywhere in the world have such a powerful pull on the imagination as the Big Buddha gazing serenely on the Po Lin (Precious Lotus) Monastery from its hillside site at Ngong Ping on Lantau Island.
The eyes, lips, incline of the head and even the right hand raised to deliver a blessing to all, combine to lend great depth of character and dignity to this extraordinary statue, whose very glance brings calm and introspection to those who look into those seemingly all-seeing eyes.
The majestic figure of the seated Buddha (or Tian Tan) is 26.4 metres high, was cast in China and took 10 years to complete. Weighing 220 tonnes, it was unveiled in 1993 amid deep religious ceremonies.
Besides attracting Buddhists from all over Asia, the magnificent figure with its compelling presence almost instantly transformed the remote Po Lin Monastery with its devout monks into a must on tourist schedules.
Besides studying the massive statue there is also much to see and do at the monastery itself with its various figures of Gods and other colourful manifestations of aspects of the Buddhist religion.
Happy Valley Racecourse
Happy Valley Racecourse was built on reclaimed marshland, and the first races were held here in 1846. They have been extremely popular ever since. Today, the track is ultra-sophisticated with computerised betting and races broadcast live on gigantic screens. Night racing was introduced at Happy Valley in 1973 and was an immediate success. The extra revenue raised was used to build Hong Kong's second racecourse at Sha Tin in the New Territories, which opened in 1978.
International Wetland Park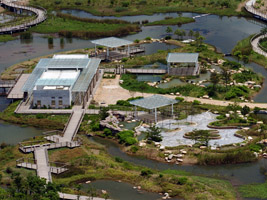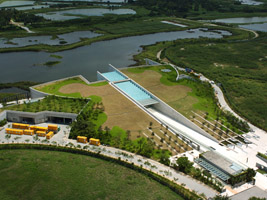 The Mai Po Marshes, listed as a 'Wetland of International Importance Especially as a Waterfowl Habitat' under the Ramsar Convention, form one of the most important wildlife conservation sites in Hong Kong. About 1 500 hectares of mudflats, fish ponds, marshes and dwarf mangroves provide a rich habitat, particularly for migratory and resident birds. Some 300 species of birds have been observed in this area, and at least 110 of them are rarely seen elsewhere in Hong Kong.
Tsing Ma Bridge
Hong Kong's very own Golden Gate, the Tsing Ma Bridge lays claim to the dubious title of the world's longest and heaviest road and rail suspension bridge. Its some 170 tonnes of steel links Kowloon with Hong Kong International Airport on Lantau.
Avenues of Stars
This tourism attraction pays tribute to the stars of the silver screen including handprints of individual stars, sculptures, movie history milestones of the past hundred years and movie memorabilia kiosks. The Avenue of Stars also offers incredible panoramic views of the famed Victoria Harbour and the stunning Hong Kong skyline. It is also the perfect place to watch the spectacular A Symphony of Lights, a nightly multimedia show with added pyrotechnics on special occasions.