NEWS
Disney Research Lab Director Shares Technological Innovation for Entertainment

HKBU Department of Computer and the Academy of Film invited Professor Markus Gross, Professor of ETH Zurich and also the Vice President of Research and Development of The Walt Disney Company to speak at the Distinguished Lecture Series in celebration of the 60th anniversary of HKBU on 17 February 2016.

The lecture entitled "Technological Innovation for Entertainment". Prof. Gross shared how scientists in Disney Research apply their technological innovations and theories to enable the best story-telling approach in the creative industry. He demonstrated some technologies behind the scenes of celebrated productions, such as, the application of their project "High-Quality Capture of Eyes" in the film "Star Wars".

As the first lecture of the HKBU 60th Anniversary Shun Hing Distinguished Lecture Series, sponsored by Shun Hing Education and Charity Fund, the talk attracted over 270 audiences which included faculty members, university and secondary school students, IT industry scientists and the public.

Markus Gross is a Professor of Computer Science at the Swiss Federal Institute of Technology Zürich (ETH), Head of the Computer Graphics Laboratory, and the Director of Disney Research, Zürich. Prof. Gross's research contribution in physically based modeling, computer animation, immersive displays, and video technology, has made him the awardee of Technical Achievement Award from EUROGRAPHICS in 2010, the Swiss ICT Champions Award in 2011 and the IEEE Visualization Technical Achievement Award in 2015. In 2013 he received a Technical Achievement Award from the Academy of Motion Picture Arts and Sciences, the Konrad Zuse Medal of GI and the Karl Heinz Beckurts prize.

More details at: http://www.comp.hkbu.edu.hk/dlecture/gross/.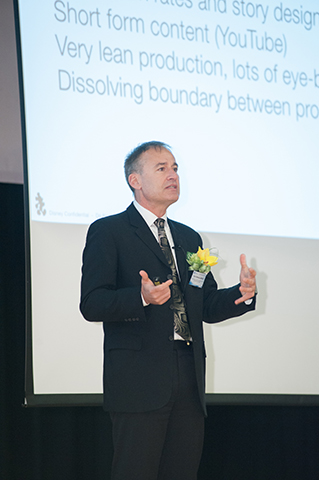 Professor Markus Gross shares Technological Innovation for Entertainment.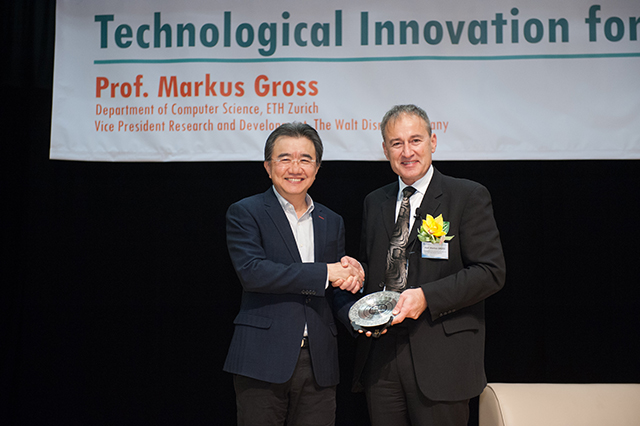 Professor Roland Chin presents souvenir to Professor Markus Gross on behalf of HKBU.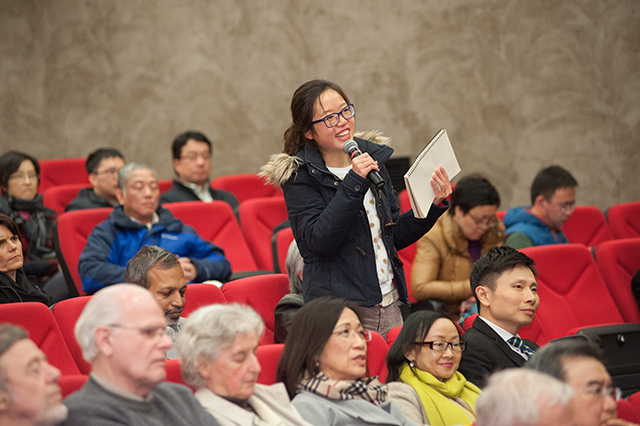 Audience actively participates in the Question and Answer session.