NEWS & ACHIEVEMENTS
COMP Student Won Innovation and Technology Scholarship Award

James SEE Shing Yi (Computer Science, Year 2) won an Innovation and Technology Scholarship Award worth HK$150,000. The scholarship supports his artificial intelligence studies in the United Kingdom later this year to widen his international exposure.

James used to be a gaming addict who played truant for a prolonged period of time. Despite his poor academic results, his secondary school principal made an exception and promoted him to secondary four. James was enlightened by his secondary school teachers and classmates, and became serious about his studies. To achieve better results, he resat the Hong Kong Diploma of Secondary Education Examination and was admitted to HKBU.

James said he is particularly interested in science and graphics because of online games. He said, "Compared with text, graphics attracts my attention more. I think graphics allows us to see more things than text can."

James believes that there is huge room for development in artificial intelligence, which when integrated with medical technologies can improve people's lives. He also encourages the younger generation "to think clearly about their interests and development path and not to abandon education while pursuing their interests."

The scholarship was awarded based on James' overall academic performance as well as his passion for innovation and technology and his intention to pursue a career in the field. He said he was honoured to receive the award and expressed his special gratitude to the Faculty of Science for the nomination and the Office of Student Affairs for the support.

Organised by The Hong Kong Federation of Youth Groups, the Scheme is jointly sponsored and supported by the Innovation and Technology Commission and The Hongkong and Shanghai Banking Corporation Limited. A total of 25 undergraduate students from local tertiary institutions received the award this year. The aim of the Scheme is to widen students' international exposure, enhance their international or industry experience, and nurture their passion and commitment toward science and technology.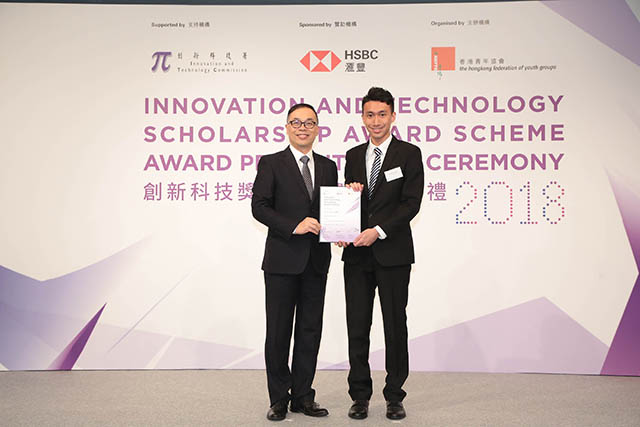 Year 2 Computer Science Student James SEE Shing Yi won the Innovation and Technology Scholarship Award.
Prof. Chris Wong, Associate Dean of Faculty of Science (left) and Dr. Byron Choi, Programme Director of BSc (Hons) in Computer Science (right) congratulate James SEE for the Award.