Undergraduate Scholarship in Computer Science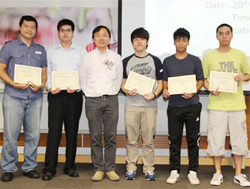 The Computer Science Department offers Undergraduate Scholarships to students admitted (enrolled) in the 4-year Programme of the BSc (Hons) in Computer Science, or BSc (Hons) in Computing and Information Systems via JUPAS at an amount of up to HK$12,000 per student, under the following criteria:
The selection criteria of the scholarship are based on HKDSE results and interview performance. To qualify for scholarship interview, the student should achieve grade 5* or above of either Mathematics or Information and Communication Technology in HKDSE, and good academic progress in our programme.

or


The Student should have strong commitment to developing career in the Information and Communication Technology (ICT) industry; achieving A- grade or above in "Essence of Computing"; and attaining a cumulative GPA of 3.3 or above at the end of Year 1 study.
Remark: The scholarship is provided by our Department to support the pursuit of our degree programmes.
If you want to learn more about other scholarships that we provide to undergraduate students, please click
here
.